Welcome to Prime Time Palm Beach County
Palm Beach County League of Cities March 6, 2012
The Palm Beach County League of Cities welcomes new Associate member Prime Time Palm Beach County, who joined us in February. Prime Time is a "non-profit organization that serves afterschool programs and practitioners. We provide supports and resources that increase program quality to positively impact school-age youth."
The foundation for Prime Time was laid in 1996 with the Palm Beach County Out-of-School Consortium. Partners included the School District, the Children's Services County of Palm Beach County, the County's Parks and Recreation Department, and the John T. and Catherine D. MacArthur Foundation. They worked together to enhance afterschool and summer programs.
By 1999 the group evolved into Prime Time Palm Beach County, Inc. Its Afterschool Consortium shares best practices, and the scholarship program benefits those pursuing degree or certificate work in the afterschool field. The activities provided by Prime Time's community partnerships include arts, sports, recreation, and technology. Prime Time Palm Beach County receives significant funding from the Children's Services Council of Palm Beach County.
"Quality afterschool is a focus on the national front for the League of Cities. Through its membership at the county level, Prime Time hopes to share its success and demonstrate it is building a model system for replication and adaption for communities across the state and beyond," says Suzette L. Harvey, executive director of Prime Time.
The League is delighted with the addition of Prime Time Palm Beach County to our organization.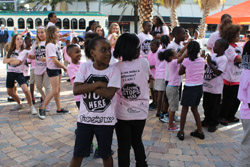 Children from Palm Beach County afterschool programs, participants in The Literacy Coalition of Palm Beach County's Turning Bullies into Buddies county-wide anti-bullying program in partnership with Prime Time Palm Beach County, celebrate Pink Shirt Day, an international anti-bullying initiative, on February 29, 2012, at the City Center Plaza Courtyard in downtown West Palm Beach.